The Texas RoadRunners will send five players along with their Head Coach to this years Top Prospect tournament in Pittsburgh, PA.  The event will take place on Monday February 6th and Tuesday February 7th.
The Runners are proud to send Forwards, Jack Herron, Tyler Love and Eitan Geralnik as well as Defenseman Logan Motz and Goaltender Hunter Hein.  The South Division will be lead by Runners Head Coach Mike Beavis.
"The guys are very excited and our whole organization is very proud of the team this year and it's members that were selected to participate in the Top Prospect Tournament.  Getting to attend this year with the players will be an honor for me as well as a chance to have some fun while watching the leagues top players."  States RoadRunners head coach Mike Beavis
NA3HL Top Prospects just one week away
JANUARY 30, 2023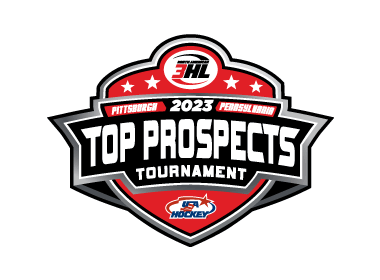 The 2023 North American 3 Hockey League (NA3HL) Top Prospects Tournament, which will be held from February 6-7, 2023, at the UPMC Lemieux Sports Complex in Cranberry Township, Pennsylvania, is now just one week away.
The NA3HL Top Prospects Tournament is played in conjunction with the NAHL Top Prospects Tournament. The event is one of the most highly scouted events of its kind, with hundreds of junior, NCAA and NHL again expected in attendance this season.
The NA3HL Standings were frozen following the games on Sunday, January 8th. Teams were seeded within their division based on win percentage. The number of players each NA3HL team will send to the tournament is based on each team's winning percentage within their group.
100 total players from the NA3HL will be spread amongst five divisional teams, who will play in two games each during the event. Each team will consist of a 20-man roster (12 forwards, 6 defensemen and 2 goalies). Any player who was considered for the event must have been first nominated by their respective head coaches.
For more information on the 2023 NA3HL Top Prospects Tournament, please visit: http://na3hl.com/tpt/
Scout passes for the event are on sale now. Click here to purchase
2023 NA3HL Top Prospects Rosters
2023 NA3HL Top Prospects schedule (all times eastern, subject to change):
Monday, February 6th
9:00am: South vs. East
12:00pm: NAPHL vs. West
3:00pm: Central vs. Frontier
Tuesday, February 7th
8:00am: Frontier vs. South
9:30am: NAPHL vs. Central
12:30pm: East vs. West